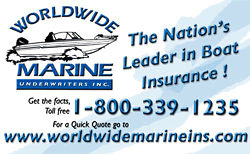 Worldwide Marine Underwriters only insures boats. It offers special programs for all types of watercraft, including pleasure boats, performance boats, cruisers, yachts, sailboats, charter boats and fishing boats. Visit Bob at WorldwideMarineIns.com
*A New Boat the Hard Way *
*Walleye First Tournament Series Part 8, Lessons Learned*
*Jim Kalkofen* – Published January 23, 2013
Author's Note: The status of the walleye tournament world with a vision for the future will be explored throughout this series. Industry leaders, observers, participants (past and present), sponsors, professional and amateur anglers, host communities, marine and tackle manufacturers, and tournament organizers will share their wisdom and insights.
Part Eight explores an incident that happened on tour, and how "Being Prepared" saved the day for a rookie pro walleye angler. It also saved his neck from the potential money-noose. Instead of rolling your eyes at the word "insurance," learn from this incident and review your policy. Any tournament angler could face the same fate as Robert Cardenas.
The short story is easy. His Ranger/Merc tournament boat was stolen during tournament week. When discovered, it was stripped and toasted on the trailer. The thieves burned the hull. He had insurance designed for a pro angler, and was paid the "Agreed Value" per the policy. "This was a really good experience, despite the situation," Robert said. The details follow.
Robert had fished the amateur or co-angler side of several pro-am tournaments prior to 2012. He entered AIM as a pro last year and scored seventh, 10th and 13th for his top showings. The seventh place finish at Oconto (fishing Green Bay) was the timeframe when he hit his highest point – leading after day one – and his lowest point when his boat was stolen early in tournament week.
The boat, a 2004 Ranger 621 with a Merc Verado 250, was towed to a marine dealership near Green Bay because a "code" appeared, and he wanted the outboard checked out. He dropped it off in the secure, fenced area with dozens of other boats on Sunday evening. It sat next to $90,000 ski boats and many other bigger boats. The next morning, while preparing for a pre-fishing day in partner John Mickish' boat, the call from the dealership asked, "Did you pick up your boat?" At first, he thought it must be a prank by another pro. "We can't find it," the service manager repeated.
So much for fishing. Robert raced to the dealership. The police were there, and with the manager were counting all the outboards that had also disappeared. The many security cameras were "down," as they discovered. "I put some info on FaceBook, just in case, and called the insurance company. My agent's son saw it on FaceBook and called his dad, Bob Luellen, who was in town fishing as a co-angler. Bob called me and calmed me down. He reassured me that I was totally covered and advised me to go fishing. My mind seemed elsewhere," Robert said.
Pros offered boats, tackle, rods, and support. "Since my partner was there for the pro-pro team event, I didn't have to borrow much tackle. You realize how important the fishing-family is when something like this happens," he said. That night, Robert had dinner with agent Bob, who said, "Everything was covered, and the equipment rider took care of the gear."
In less than three weeks, he had money in hand and purchased Danny Plautz' 620 Ranger with a 250 Verado (also insured by Bob). Robert used it at Lake of the Woods (10th place in the Championship) and towed it to Danny for the FLW Championship (which Danny won). Danny brought it to Minnesota for Robert. An interesting turn of events occurred when Robert's partner sold his boat and Robert became part of the Warrior promotional team at the same time. He sold the boat from Danny to his partner. Robert said, "I can't wait to fish from my new V203 Warrior."
Bob of Worldwide Marine Insurance said, "This was an unfortunate situation, but fortunately he was insured correctly." With a quarter century of nothing but marine insurance, mostly big boats, Bob started handling tournament pros in 2008. He had fished and visited with Mark Martin at a 2008 PWT tournament.
Pre-fishing and participating as a co-angler, Bob kept asking questions of many pros. "Most were not covered for what they were doing. At the time, most had boat insurance via their home and auto insurance companies. That's the worst thing they could have done," he said.
Explaining further, Bob said, "Most boats insured with a homeowner's policy do NOT cover them for the work they do with the boat. If they fish tournaments with the intention of making money, they need a commercial policy." He cited a "for instance:" If a pro has a contract with Lund, and the contract asks the pro to take VIP, guests or potential buyers on the water, commercial coverage is required.
"Special marine insurance does not cost anymore," Bob emphasized. "It is a huge difference, however, to be covered when you need it." Pros need a commercial general liability policy, non-owned watercraft liability, coverage for gear in the boat and coverage for gear stored elsewhere. "Usually homeowner's policies cover only up to a max. When a pro angler starts totaling all the gear it takes to run his business, it really adds up," Bob said. Robert, just starting his pro career said, "I'll always insure my boats with Bob."
Terms to understand: Agreed Value Policy compared to Actual Cash Value. Robert had Agreed Value, and received $31,000 for his boat and outboard, $4,000 for the trailer and $5,000 for gear. With Actual Cash Value, he would have been at the mercy of the adjuster, and based on a 2004 boat stolen in 2012, the current Blue Book value would have paid $22,000.
One more term, Replacement Cost insurance, is tossed around, but creates a false sense of security. "Replacement Cost usually goes away in two to five years, and then some policies revert to Actual Cash Value. I don't sell it. Agreed Value leaves no question as to what the owner will receive if and when he needs it," Bob said.
At the National Professional Anglers Association annual conference, Bob said, "I have yet to meet a NPAA member or Weekend Warrior with exactly the boat insurance needed."
Call Bob at 800-339-1235, or email bob@worldwidemarineins.com. Do what knowledgeable pro anglers like Robert do – Be Prepared!